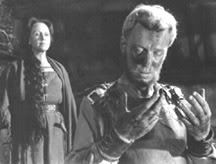 Since the recent death of Swedish director Igmar Bergman, I've been thinking of his many films I've seen over the years. The one that still haunts me today is his 1961 Academy Award winner, The Virgin Spring. I first saw it twelve years ago, shortly after being laid off from my print shop assistant job. One day I decided to borrow a few movies from the local library. In my melancholy state, I was naturally drawn to the small foreign film section. Later that night, I was transported to a much simpler time where the young virgin daughter of a devout Christian farmer rides horseback for miles to bring candles to the nearest church. I didn't know what to make of the film at first, but it made me forget my unemployment woes for a little while.
The only other Bergman film I'd seen at the time was The Seventh Seal, but it didn't affect me the way this story had. I realize now that Bergman was not just re-telling a 14th-century Swedish legend, he was presenting universal archetypal symbols which transcend the simple Christian allegory of redemption. I found that C.J. Jung's use of the shadow to represent repressed aspects of all the darker and neglected parts of our lives was very useful to understanding this film. The shadow is not all evil, for it can contain sound instinctive reactions also, which is why we must always be on guard against it.
Karin's dark haired, pregnant sister, Ingeri, prays to the Norse god, Odin. Because Ingeri hates Karin for being the favorite daughter, she slips a toad into her bread. One might say that the Ingeri character is the shadow cast by Karin's virgin light. Ingeri follows her sister and watches her being raped and murdered by two herdsmen with whom she had innocently shared her lunch. Ironically, the herdsman and the child they are traveling with end up at Herr Töre's farmhouse where they ask to be put up for the night. When they try to sell Karin's clothes to the mother, they realize that the herdsmen had murdered her. Herr Töre waits until his guests fall asleep, then kills them both, along with the child. That morning the family sets out to find Karin's body. Falling to his knees, Herr Töre vows to God that he will construct a church on that same ground. As he and his wife lift up her body water begins to spout from the grassy earth where her head had laid. The dark sister Ingeri is suddenly converted to Christianity, as she desires to purify herself with the water.